December 8th, 2008 by Karen
So last night I was surprised by my friend Kai with more gift art, this time of my character Lydia Chapman. It's a quick rough sketch, but it looks awesome!
Posted in Art | 0 Comments
December 5th, 2008 by Karen
I have art in my home…my very favorite piece is a painting my husband picked up for me at an auction that is a 4×3′ oil on canvas of a lavender field that reminds me of the lovely trip to France I took my senior year at college. I have framed a couple touching things from the kids and a water color that I did.
I've never had art like this.
In yesterday's mail, I got a fabulous present from my friend, Bayani. It's my main heroine from City of Heroes (the MMO I play)drawn by the very talented Dave Hamann and colored by Brad Mrock.
It's spectacular. I'm simply floored that someone could take a couple of screen shots and a brief description of her personality and suddenly she's staring back at me from the paper, just like I alway imagined her to look.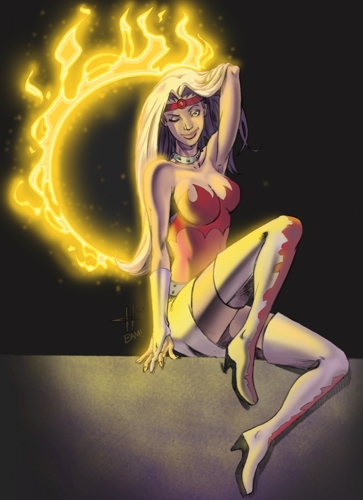 Posted in Art, City of Heroes / City of Villains, Gaming | 0 Comments