October 8th, 2014 by Karen
In the ongoing saga of our dryer, I have -finally- had a win.
About six months ago, it started making a terrible squealing sound. So I did what most self respecting business women do…I called a repairman. The amazing elderly gentleman who was my go-to guy for everything repairs retired a few years back and we've had pretty good luck with appliances, so I wasn't sure who to call. It's like playing Russian Roulette with your modern conveniences at stake. I asked friends for recommendations, and I read online reviews. I searched for unhappy consumer complaints and finally we settled on a local company that we felt was reputable, McNally's.
Joel called them, they transferred us to a repairman. He came out, looked at it, said he would order parts and left. A week later, we hadn't heard from him, so we tried the number he gave us. Disconnected.
Frustrated, we called the company back and they said there must have been a mistake and they'd have him call. Sure enough, in about 2 hours he called us back, apologized, and told us he was still waiting on one part. Several days later, he and an assistant finally came out, took about 45 minutes and replaced the front bulkhead and the drum support bearing on my dryer and that was that.
Except we noticed that after about a week, the dryer was running kinda rough. Checking the repairman's work, I saw that the bulkhead was actually cracked in both corners and not sitting properly. Unhappy, I tried his number again but it was still disconnected. Screw it. I popped the cracked piece back into place myself and hoped it would hold.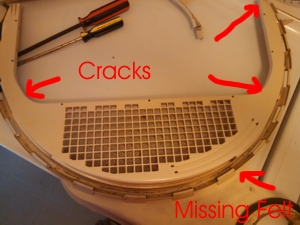 So we lived with the busted piece. Occasionally, it would work itself a little loose, so we'd push it back into place. Mostly it was just annoying. Then, the dryer stopped working well. It couldn't spin a full load of clothes, so we started running half loads. Finally, the barrel started sticking. Time for an actual fix. But I wasn't about to trust another craptastic surly repairman. I spent a little time on YouTube and decided this was something I could do myself.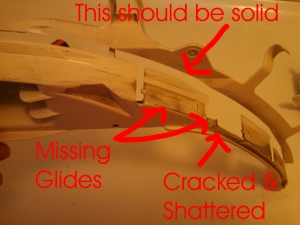 I took apart the dryer and removed the cracked bulkhead and discovered that the support bearing was not only worn through in spots, but part of it was shattered and only had two glides, rather than the four required for proper operation. I thought that perhaps they had just fallen out since the plastic was cracked, but there wasn't any sign of them at all. I also discovered that the sticker with my model number had been removed. Great.
I spent the better part of my Saturday trying to figure out what model of GE dryer I had and never actually found the answer. I was able to get fairly close though in terms of appearance, so I was hoping that a repairman worth their salt would be able to get me the rest of the way to the proper model number. (for the record, I have a GE Super Capacity/8 Cycle/Heavy Duty/Quiet By Design dryer that was originally purchased in 2000 or 2001 from Wards) Surprisingly, there are exactly zero helpful appliance part shops in our area. We went to one location only to discover they had recently gone out of business, I knew our old repairman's place was long gone, and the only other place was McNally's. Gritting our teeth, we went into McNally's only to be told that 1) the repairman they transferred us to doesn't actually work for them, despite having the same last name as the store and they -never- mentioned that when we called the first time, 2) without a model number, they couldn't search for parts and 3) despite having the broken parts in hand, they couldn't guarantee that replacements of those exact parts would fit our dryer so they couldn't help us at all, but since the parts we brought in were "expensive" and the bulkhead alone would be "well over $100", we would be better off just buying a new dryer. Which of course they sell.
Yeah right.
So we came home extremely frustrated. Back online we went and, after an obscene number of searches on various part sites, we settled on getting our parts from RepairClinic.com. They had a great return policy (not knowing our model number, we were concerned that we would be ordering the wrong thing), had the parts we needed at a reasonable price, had decent pictures of said parts (schematics are great, but photos are SO much better), AND they had step by step videos on each of the parts.
We ordered on Saturday night, the parts shipped on Monday (from Romulus, MI, which amuses me to no end), and we got them today at 1:04pm. I had the dryer totally repaired and up and running by 1:30pm. Horrible repairman took twice as long. Heh.
I am so damn proud of myself and the physical labor involved was much easier than I had expected. Best part is, I can actually stop using the makeshift clothesline in my backyard now and the kids can stop complaining that their clothes are stiff. I don't think I've ever been more excited to do laundry.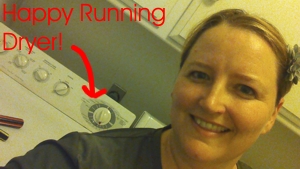 Lessons Learned:
Keep all appliance model numbers somewhere where unscrupulous repairmen can't remove them
Don't bother with repairmen.
Definitely don't shop at McNally's
Do it yourself. It will save time, money, and headache.
By the way…that part that was going to be "well over $100"? Cost me a whopping $39.95. I'm laughing all the way to the laundry aisle.
Posted in Family, Life | 3 Comments
May 7th, 2014 by Karen
Everyday, I work with a variety of website owners. Some are go getters, some are more laid back. Some know exactly what they want, some need a little hand holding. I do my best to work with them all equally. My job is to help when help is needed, offer support when necessary, and fuel enthusiasm always.
I do this by having a plan.
I have a Yearly plan. I have a Quarterly plan. I have a monthly plan. And every morning when I sit down at my desk, I make a daily plan.
Now, I've been doing my particular marketing job now for fifteen years, so I certainly wouldn't expect someone who is just starting out to have the same level of planning that I require of myself. That being said, lack of planning is a major cause of critical failure of sites, businesses and entrepreneurs.
You cannot plan for your next market roll out if you don't have credible numbers to back up your 'gut feelings'.
You certainly can't find where your customers are losing interest without taking a look at your analytics.
You will be hard pressed to make appropriate purchasing and pricing decisions if you haven't made a cohesive budget plan.
You should not bitch out a qualified marketing person who's efforts are actually driving you sales when you don't even know how many sales you are making.
I know that anger is sometimes just the manifestation of fear, and in this particular case, fear of failure. I get that.
But screaming at me for an hour isn't going make your business plan magically appear.
Only you can make your plan.
Thanks for helping me decide to update mine.
Posted in Work | 0 Comments
April 29th, 2014 by Karen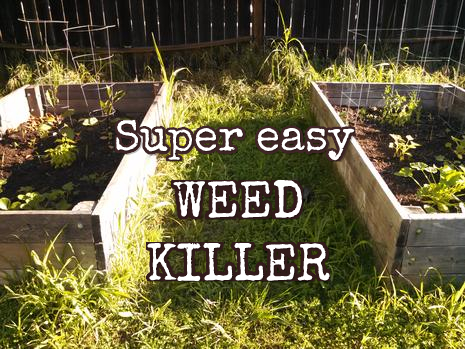 One of the hazards of having a lot of rain and then beautiful sunny weather is that all the things that I don't want taking over my garden suddenly grow like…well…weeds. You see all the lovely weeds in the picture above? That's only two days worth of growth. Two. Days. Today is Tuesday and my husband mowed them down on Saturday. And before you protest that the weeds look too tall to have been mowed just a scant two days ago, I'd like to point out that the tall stuff is an insidious invasive plant called Johnson Grass. It can grow to 8 ft tall and a single plant can produce more than 80,000 seeds. Oh, and it also grows back from the smallest piece of root and can grow several inches OVERNIGHT. Evil.
Now, I know that one of the options I have to kill all the weeds is RoundUp. But, I've kinda become a Monsanto hater (yeah, they make RoundUp, pest resistant plants that kill livestock, aspartame (that's in NutraSweet, fyi), and in the past? They were the parent company that made this incredibly effective herbicide called Agent Orange.), so I'm not too interested in putting that stuff anywhere my family is hanging out and certainly not near the food I'm planning on eating. So, I've been looking for a better solution.
Enter Pinterest.
I came across a pin that took me to the amazing blog A Garden for the House with a fantastic post about how to keep your garden weeds down without the use of all the nasty toxic stuff. Bonus? I already had it in my house!
Over the past couple of years, I've started to use vinegar more and more for cleaning and disinfecting. Microwave a mess? Heat up vinegar and water and steam the caked on gunk off. Washing machine funky in a bad way? Add vinegar to your next load. There are so many great uses for simple things like vinegar, salt, baking soda and lemon juice that I've found that I've stopped using some of the more harmful things that I used to use. So I was definitely happy to find a weed solution that was vinegar based.
Essentially, the post calls for you spray your weeds with straight vinegar. That's it. Now, I'm pretty sure that this would do a fantastic job on the crabgrass and other odds and ends weeds infesting my garden, but that Johnson Grass is a beast. So I did a little more searching and ended up using the following:
1 gallon white vinegar (5% acid)
1/2 Cup salt (I don't want anything growing back, so I don't care if I salt the ground…if you're just killing weeds to plant something else DO NOT ADD SALT)
1/4 Cup dishsoap
I mixed it all up in my watering can, watered the offending area at 8am this morning and here's what it looked like at 4pm this afternoon: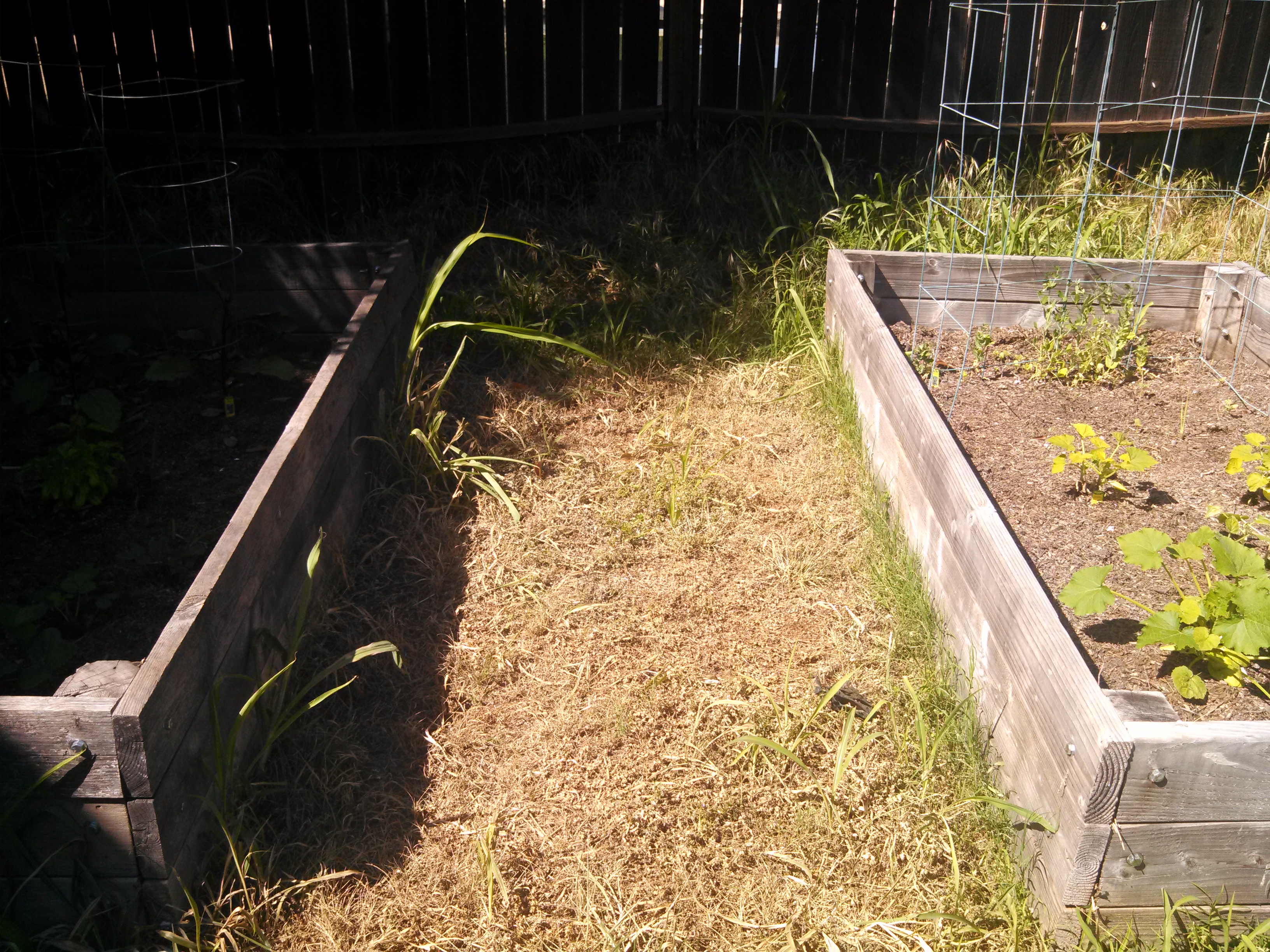 I can't wait to see what it looks like by tomorrow!
Posted in Gardening | 3 Comments
April 29th, 2014 by Karen
There's little more satisfying than starting the garden every year. It's the sign that we've shuffled off winter and most of the dreary overcast days that seem to hang on interminably.
This year, we finally planted our third planter box. We built all three boxes two years ago and have planted them in stages the past couple of years. The first year, we planted lettuce, spinach, beans, eggplant, cilantro, celery, and zucchini. Everything grew, but we discovered that the lettuce and spinach were more hassle than they were worth…fighting off invaders was irritating and the slugs destroyed more than we actually ate. So the second year, we skipped the leafy greens while planting two of the boxes. In the first, we planted bell peppers, chili peppers, squash, a striped zucchini, and basil. For the second box, we decided to try our hands at cantaloupe and watermelon. Everything was a success, except the zucchini and squash which had the worst yields I've ever seen. Normally with just a plant or two, anyone would be drowning in zucchini, but I think all season we had 3. That's it.
In selecting plants for this year, we returned to a tried and true zucchini variety, along with the same selections of squash, basil, bell and chili peppers as last year. We missed the eggplant from two years ago so we re-added that and while the beans grew well, we decided to plant peas instead. We added two varieties of tomatoes this year too. I'm the only one that likes them raw, so I only planted one heirloom variety, and I planted three Roma tomatoes specifically for canning as we use a LOT of tomato sauce and paste through the year.
We also planted one of my most favorite things, strawberries! I've always loved these sweet little packages of spring deliciousness wrapped in bright red. When I was little, every morning before I had breakfast, my mom would hand me a bowl and send me out the back door to rifle through our two massive strawberry beds for ripe berries. We'd cut them up over Cheerios or Rice Chex and the leftovers my mom would turn into freezer jam. Sometimes, she made homemade strawberry shortcake or paired them with a homemade angel food cake.
When we first moved to this house, we planted a row of strawberries, and they were good for a season, but after that the quality was terrible and it was very disappointing. I'm very optimistic about this year's crop though for two reasons: we've planted them in a raised bed which so far has kept them pest free and we planted Sequoias which are a very hearty variety. Plus, we've had the plants in for about two weeks and we're already getting delicious fruit!
Later this week, we're planting pumpkins as part of a project of a friend of mine to see if the pink pumpkin she grew last year will breed true. I'm super excited!
Posted in Gardening, Life | 0 Comments
January 27th, 2014 by Karen
I started writing this letter last Thursday…sadly, I was too late to send it. My former boss and mentor passed away on Friday.
Requiem Aeternam dona eis, Domine; et lux perpetua luceat eis. Requiescant in pace. Amen.

Dear Kevin,
I've been meaning to touch base with you again as it's been quite awhile since we last spoke and you've been on my mind. I've been quietly watching your struggle with cancer the past year and we've been keeping you, Margie, Shannon and Daniel in our prayers. It always makes me smile when they post new pictures of you and I was sad to see that things haven't been going so great for you health-wise the past few weeks.
I want to thank you. We may have butted heads a time or two over things, but I think we can both chalk that up to my youthful testing of my wings. You taught me so very much in the years we worked together. I learned not only how to be a better marketer, but how to work with a team. You were always approachable and encouraging, even when I felt I had made missteps. You helped me learn to see the bigger picture, not just the minutia. It's a lesson I still struggle with on occasion, but one in a series of career gifts you gave me.
You also taught me that work should not always be my priority. You always did your best to make time for your family and I admired that about you. Perhaps that's one of the reasons I stepped away so abruptly after my youngest was born…I craved work/life balance and I didn't have the first clue on how to achieve that. In hindsight, I should have talked with you at length about it before leaving the company. I regret that and I apologize for it.
Thank you for all the times you listened to my ideas, my frustrations, and my aspirations. I enjoyed every lunch, every long discussion of the numbers, every conversation about parenting and how proud you were of your kids, and even when you occasionally swiped fudge from my desk. You always had a big smile and an even bigger heart. And above all, thank you for being a mentor to me. I hope I live up to your expectations.
Keeping you in our prayers,
Karen
Posted in Life | 0 Comments
January 1st, 2014 by Karen
Well, technically it's been 3,515,040 minutes or…
210,902,400 seconds…
58,584 hours…
2441 days…
or a grand total of 6 years, 8 months, and 5 days since I posted the photo of my sister Karey and I as my Facebook profile picture.
So much as happened in those nearly seven years…
Karey graduated from high school and college, got married, bought a house, and is getting a dog.
Our brother bought a house, switched jobs and is smiling more than I can ever recall before.
My husband and I have gone through 3 cars, pneumonia that nearly killed us both, a major overhaul of our business and more Excedrin and Tums than I care to admit.
Maria has grown from a wide-eyed six year old with a shattered elbow to a confident, strong, responsible young lady.
Alex has gone from three to ten and from his love of Legos to his love of Legos that he can control with programming.
And little two year old Sophia has taken those lovely eyes of hers and set them firmly on world domination. Or something glittery. It's hard to say some days.
Along the way, we've gained family (yay Kirk!), we've lost a lot (Grandpa Bill, Uncle Allen, Aunt Marge, Aunt Louise, Grandma Kay, and Stephen just to name a few), and we've made a bucketful of new friends. We've done our best to make the most of every minute of these years and, though we may have worked too much and played too little, it was memorable nonetheless.
And I know that 9077 days ago, I got something I never had before and I know I'll never have another one of…a little sister.
Also, I know how much she hates that "old" profile picture of the two of us from 7 years ago, so today, for the very first time, I've updated my profile photo. (I'll just have to wait another 7 years before she appreciates the youthful, unwrinkled faces in that "old" picture. 😉 )
Happy New Year…may it bring us all many blessings!
Posted in Family | 0 Comments
December 2nd, 2013 by Karen
Good King Wenceslas looked out, on the Feast of Stephen,
When the snow lay round about, deep and crisp and even;
Brightly shone the moon that night, tho' the frost was cruel,
When a poor man came in sight, gath'ring winter fuel.
How often do we hear about the poor? It seems the news takes great pains to point it out right before the holidays or when some spate of violence happens that involves the poorest in our communities. Politicians fill their sound bites with criticisms of other politician's opinions in a never ending cycle of complaints about who is abusing 'the system'. We walk past beggars in the street without a glance or with a self-aggrandizing sense that they'd waste a donation on drugs or booze.
But how often do we actually listen to the actual plight of the poor?
"Hither, page, and stand by me, if thou know'st it, telling,
Yonder peasant, who is he? Where and what his dwelling?"
"Sire, he lives a good league hence, underneath the mountain;
Right against the forest fence, by Saint Agnes' fountain."
Unfortunately, approx 14.5% of the country live in food insecurity. That works out to 49 million people, 15.9 million of which are kids. That's one out of seven people who are unable to put adequate food on the table at some point during the year and make cuts where they can just to feed their kids. (Quick math: I have 816 friends on Facebook. 14.5% of this is 118 people. It's a lot.) Reductions in quality, in quantity, adults reducing the number of their meals so children are adequately fed. Food insecurity has been tied to obesity, chronic diseases, and the outcomes of many cancer patients. It's heartbreaking.
"Bring me flesh, and bring me wine, bring me pine logs hither:
Thou and I shall see him dine, when we bear them thither. "
Page and monarch, forth they went, forth they went together;
Through the rude wind's wild lament and the bitter weather.
Food banks and local charities do great work as they often know exactly what a community needs and their small focus lends itself well to nimble activation in an emergency, but they need resources and more than just cash. Often, we are asked only for money which is a shame because that's a resource that's not always readily available for many. I say this a lot, but it bears repeating. There are three things a person has to give of themselves:

Time, Talent, and Treasure.
Can you take the time to volunteer at your local charity serving or making a meal, even just one? Can a local charity use your talents to balance their books, repair a faucet, wrap presents for children, help run their annual fundraiser? Can you donate money or food or gloves or jackets or toothpaste? What do you have in your house
right this moment
that you don't use or truly love that you can take and bless someone else with today? (Go get it and put it in your car right now. This post will still be here when you get back.)
"Sire, the night is darker now, and the wind blows stronger;
Fails my heart, I know not how; I can go no longer. "
"Mark my footsteps, good my page. Tread thou in them boldly
Thou shalt find the winter's rage freeze thy blood less coldly. "
Winter has already hit hard in many places. It's cold outside and for families that are stretched thin already, it makes things doubly hard. Heating bills go up, healthy food costs more as it's off season, and children have outgrown last year's coats, pants, sweaters and shoes. There simply is no budget for frills like Christmas. Children in these households have grown up fast out of necessity. Asked what they most wish for, they ask for a coat or new pants for something for their parents or siblings. Simply put, kids who are worried about where their family's next meal might be coming from have much more important things on their mind than the latest and greatest gadgets and even just having to ask comes with a heavy burden of shame for needing to -ask- for something as simple as new socks.
In his master's steps he trod, where the snow lay dinted;
Heat was in the very sod which the saint had printed.
Therefore, Christian men, be sure, wealth or rank possessing,
Ye who now will bless the poor, shall yourselves find blessing.
Wenceslas wasn't a king. He never was during his life. He was a duke, raised in a household with a Christian father, pagan mother, and Christian grandmother, St. Ludmila. After the death of his father when he was 13, his mother grew jealous of Ludmila's influence over him and had her strangled. Eventually, his own reign ended when three friends of his younger brother murdered him as he rode to church.
Sounds like a pretty broken family, doesn't it? Yet, in spite of his own troubles and strife, Wenceslas still exhibited piety and charity in his lifetime, so much so in fact that he posthumously was given the title of 'king' by Holy Roman Emperor Otto I. I've always loved this 'traditional' carol* and I think it's a wonderful example of how to live your faith. Look outside of your own comfortable space. Give of yourself. Care for those who have less than you. Show the way to others so they can do it too.
A lovely thing to remember as we count the days until Christmas.
*(yes, I know it has several inherent issues that clash with calling traditional, like the king/duke bit and the fact that it borrows the tune wholesale from the medieval children's song 'Tempus adest floridum'. I still like it.)
Posted in Life | 0 Comments
November 13th, 2013 by Karen
This post was inspired by a Facebook thread by a friend of mine, Sarah Bundy. Thanks!
Everyone has a story of how they got started in affiliate marketing and most of them begin with "Well, I was actually doing this other thing at the time…" My story is no different and involves physics, chocolate and a whole lot of strawberries, but I'll save that for another day.
This post is actually about six people, a whole lot of shenanigans, and a photo booth.
In November of 2003, I had been in the affiliate industry for about five years, and courtesy of several Yahoo groups, regular monthly calls of various managers and hosted by Shawn Collins, and a few early groups like USAMC and iAfma, I had some preliminary acquaintances in the industry, but I had yet to meet anyone in person. Then I managed to convince my boss at the time to let me go to this brand new conference all the way across the country in New York City.
Still not sure exactly how I managed that one!
I attended the very first Affiliate Summit at Baruch College in November of 2003. I learned quite a bit, had some validation on some new things I was doing, and even taught a few others a couple of things. I took a ridiculous amount of notes and I still have the little conference tote bag. After a long day of education and networking, we headed to the rooftop bar for some refreshments and more networking.


Now, anyone who knows me well knows that I'm actually an incredibly shy person. So when I found the number of people in the bar to be a bit overwhelming, I escaped outside and sat down on some sort of bench thing.
That's when I met Kim.
Kim is my exact opposite…she is boisterous and extroverted and gregarious. I was in awe and a little shell shocked, but in moments we were talking about kids and life and Nebraska and other non-affiliate stuff.
And then we gained Marifer. She sat down with us and within minutes the three of us were giggling like mad and having a blast.
And then "Bob" joined us. We later found out his name was actually Chris, but during one of the sessions earlier that day, the name placards on the speakers table were reversed. We called him Bob for hours and hours before he finally corrected us.
And "the guy whose name I can never remember because he left affiliate marketing to join a band". Matt? Mike?*
And finally, Scott. I've lost when in the evening I actually met Scott, but I'm pretty certain that he's the only reason that we're all still alive today.
The party on the rooftop eventually broke up, but the six of us made a night of it. Needless to say, there's no need to dredge up the specifics of where we went, what we drank, and what we may or may not have done, but we capped off the night with the photobooth memento that lives on a shelf above my monitor. I had an amazing time and even with the discomfort of the early flight I had booked home the next morning, I've never regretted it.
…and Kim and I? Well we still like photobooths.
*His name is Mike! Thanks Scott for remembering that!!
Posted in Life | 7 Comments
October 14th, 2013 by Karen
(Please note, I am so very blessed to have an amazing husband who this post is definitely not about. Love you honey!)
Everyone has that horror story from their dating past. The one that you recall with a smirk and a shake of the head, knowing full well that, while in the moment you felt devastated at the end of the relationship, time has proven just how incredibly lucky you were that you were able to walk away from the train wreck relatively unscathed.
Still, it sucks. It's hard in the thick of it when you can't help but feel helpless and unwanted. And it's even worse when the other party throws mixed signals at you like confetti at a celebratory ticker tape parade.
Been there, done that. Hate seeing others have to learn it the hard way.
I know just how lucky I am. I have a very close knit family who supported me when I thought my world was unraveling (it wasn't…and boy, that bullet that had my name on it was more like a rocket) and gave me solid ground to stand on. My #1 rule has always been "Don't mess with my family." (#2 is "Don't mess with my friends" and #2 1/2 is "Don't rearrange my kitchen." but I digress…) In fact, if you look at my extended family tree, you can count the number of divorces on one hand. Note that I said extended…I have an enormous number of cousins, aunts, uncles, all with varying degrees of greats, and in that sea of people when we commit, we commit. We are practical farming stock. We expect honesty and trust and our word is as good as our bond. Hardship is our middle name and we wear it proudly in the dust on our boots and the callouses on our palms. We work hard, we love unconditionally, and we tolerate very little interference with either of these pursuits.
Perhaps it's our pragmatic point of view or the early maturity that comes easily to our family that makes it hard when we date those that seem to share our values and maturity and things fall apart. The expectation of honesty is so baked into our core that when that trust is irrevocably broken with lies and deceit, it leaves us in a bit of a tailspin.
As family however, we close ranks around fallen members. The flip side of that congenial trustworthiness is not an easy-going forgiveness. It is a steely-eyed suspicion of motive and a rather impressive amount of discussion of every little comment and nuance. Regaining our respect is a very difficult thing. Not impossible, but the effort needed is great.
If you're worthy of our family, show us.
If not, you'll find the doors to our castle permanently barred.
Posted in Family, Life | 2 Comments
June 28th, 2013 by Karen

…my baby sister gets married!
Twenty four years ago, Karey arrived in my life and I couldn't ask for a better sister. Ever. Period. End of story.
Even on the days where we argued and fought, (and we rarely did that right mom and dad?) I knew she had my back. Her mischievous smile is infectious and her gigglefits as a child were legendary. I hated that I missed so much of her while I was off at college but I loved discovering new things about her every time I came home.
I have watched my baby sister grow into an incredible young woman and she's found a wonderful man who is a perfect complement to her. I know they both know how lucky they are and I can't wait for this new chapter to begin for them.
I love you both to bits and I'm honored to be part of your big day!
Posted in Family | 0 Comments
« Previous Page
—
Next Page »