June 19th, 2013 by Karen
I've worked in the affiliate industry now for 14 years and it never ceases to amaze me when brands fail on the simplest of tasks: Affiliate Applications.
There is of course the litany of reasons of why a program should never be set to Auto-Approve, the chief of course being the Pandora's Box of fraud you open up for yourself to deal with, but adding Auto-Declines to a program is also a negative move as well.
Excuse #1: We only sell in the US, so we decline international affiliates outright.
The sheer number of short sighted managers that take this tack is staggering and they are shooting themselves in the foot. I have a program that I manage that does accept international affiliates, however my top 8 international affiliates ALL have United States traffic. Their sites are in English, they target US audiences, and they abide by the merchant terms and conditions. Over the past year, they have driven $40,000 in sales. I'm thrilled to work with them.
Excuse #2: We only want to work with Super Affiliates and "insert useless network stat here" affiliates.
Just because an affiliate is an amazing producer for one program doesn't necessarily translate to automatic success for a completely different niche. Also, while a mention by a big name affiliate is fantastic, it usually translates in a sales spike that peters out over a a couple of weeks. The small affiliates that send you consistent traffic every month and a dozen or two sales a year are your bread and butter. Also NEVER FORGET: every top affiliate was once a fledgling affiliate with no bars, stars, or commission checks. Be a mentor.
Excuse #3: I don't have time to deal with apps, so I've set it so it only lets in affiliates that meet my specific criteria.
Hate to break it to you, but if you're an affiliate program manager…then your job is to manage the program and the biggest part of that is developing relationships with all of your affiliates. Not just your top 10, but all of them. This should be a time consuming process because it is the most important thing you do for the growth of your program.
Now the thing that prompted this post is that today, I was auto-declined by a merchant. It probably was because I don't usually do a lot as an affiliate anyhow, so my account is rather quiet, but of course there is no real way to tell. The reason that I wanted into the program? I was writing a sight-seeing post for a large group of friends that are traveling to Chicago next month to attend an event. It has write ups on the Chicago Art Institute, Navy Pier, The Field Museum, the Museum of Science and Industry and many other great places to visit in Chicago. As a frequent traveler, I know that the best way to visit most of these places for the cheapest cost is to use a discount pass and there are two places that offer them: CityPASS and Go Card. I applied for both programs in CJ and was instantly declined by Go Card.
The event my friends are attending has over 30 people attending from all over the country as well as Canada, Australia, and Sweden. Many are also bringing their significant others which swells that number to around 50. They are actively planning on sight seeing and with a two day pass for either company hovering around $100, even if not everyone goes that is still a large order. Go Card will never ever see a dime.
Now, just to be clear…this site as well as a handful of other sites are listed in the CJ account I applied with and all of them are listed as content sites. I could, of course, take the time to email the affiliate manager and ask to be reconsidered, but I simply don't want to spend any time on a program that didn't give me a fair review in the first place. That holds even if I were to get approved after the fact.
If you're an affiliate manager that uses auto-decline, I would seriously encourage you to re-think your policy and at a bare minimum, take a moment and pull the list of your declined affiliates. I'm certain that you'll find that you've thrown some gold out with the sand.
P.S. If you're Go Card and you're reading this, I have plans to travel to Philadelphia in about 8 weeks and trips in the next year for conferences in Atlanta, Las Vegas, Portland, Seattle, Chicago, and San Francisco. I often write up my travels and I definitely talk them up on social media and in person to others and make travel recommendations all the time. How many other business professionals like me have you also declined?
Posted in Work | 1 Comments
June 14th, 2013 by Karen
Next Sunday, June 23rd, I was supposed to make a cake.
It was to be a triumphant cake! Whimsical with a touch of sentiment and a splash of congratulations.
It was to be a retirement cake worthy of a woman who had taught for 45 years and to whom I owe a debt of gratitude. I can't begin to express how stupidly excited I was to make this cake. I even made a pinterest board for inspiration.
This morning, I made a different cake entirely.
There is no whimsy to this cake…no hidden little decoration or detail to tantalize and delight. Instead it is simple and elegant. Just like Edna.
Through the years, I've found that whenever I make a cake, there's always something that doesn't turn out quite right. There's a flaw in the fondant, a decoration is too large, or a part of the frosting is smudged. These are usually superficial issues and only I see them and they irritate me. To me, cakes are like art…except the more you fiddle with it, the worse it will turn out, so I've had to learn patience and when to leave well enough alone. These are good lessons for me. I recognize that I need them.
It is with a rather large amount of surprise however that I can say the following:

Today's cake is flawless.
I baked the cakes last night and they turned out perfectly. There was no problem turning them out and the texture was wonderful…moist and just firm enough that it doesn't smash. The crumb coat and frosting went on smoothly and in record time. I had just the right amount of ribbon in her favorite color of lavender. Finally, the fondant (which can often be the biggest pain) was literally the easiest thing I did this morning. It was absolutely effortless.
It is -never- effortless.
I was so stress free about the cake this morning that I was able to also make minor alterations to Maria's dress, repair Alex's tie, fix a bad ironed crease on Joel's pants and still get myself ready to go long before we actually had to head out the door.
Set up was a breeze and the extra time to just sit in the pew silently in the church was so very nice. The service was lovely and unpretentious and it was filled with love, laughter and music. I loved watching Alex altar serve and worried for him when I saw his demeanor change as the whole of what he was doing crept up on him to the point where he had to leave the altar. This process has been supremely hard for him, despite Edna's own efforts to cushion the blow, and it will take him some time to sort out all his feelings and grieve.
She was his rock this past year. He was lost and she found him.
What a blessing she was to us and how very much we will miss her.
Requiem Aeternam dona eis, Domine; et lux perpetua luceat eis.
Requiescant in pace. Amen.
Posted in Family, Life | 0 Comments
May 25th, 2013 by Karen
To say this week was a bit of a rollercoaster at our house, would be a remarkably huge understatement.
My sweet aunt who is fighting a vicious brain cancer took a turn for the worse and so did Alex's amazing teacher who is fighting a cancer of her own. I've been distracted and scattered and the kids of course know that things are wrong and they are still at the age where they believe that doctors and hospitals have super powers…you go in, you come out well and healthy.
Ah, the heartbreak to discover that this is a fallacy.
After a brief conversation with a friend and former teacher at the school last night, I made the decision to take the two little ones to see Mrs. R at the hospital. I fear that time grows short for this amazing angel of a woman who selflessly and successfully worked hard to rebuild Alex's self esteem this year. She set high expectations for him and poked and prodded and corrected and pushed him to succeed. Under her gentle, old school style tutelage, he is doing far better both in school and at home and we are forever in her debt.
Sadly, I've done this type of hospital drill before and I knew what to expect, so we spent quite a bit of time talking on the drive over about what it was like to visit Granny Kay the last time two years ago and if they remembered the machines and such. We talked about how it was important to walk through quietly in case other people were sleeping and how not to push any buttons or fiddle with any knobs. We talked a little bit about cancer (and how it sucks) and that we might not get to see Mrs. R for very long or maybe not at all.
The kids were nothing short of fantastic. Our visit was brief since she was very tired and they had just given her some medicine, but it was good. The kids I think were both taken aback by how thin and frail she was, especially since she's always been larger than life to both of them. She read both of the handmade cards the kids brought and smiled at the fuchsia the kids had picked out for her. Sophia of course had to explain the pictures in her card and check one last time to see if Mrs. R was -actually- retiring and if she couldn't just come back to school until Sophia can be in her class. Alex talked to her about the upcoming end of year class party they'll be having at the bowling alley…one of her favorite pastimes. She perked up at that and he told her that he hoped she could make it. She simply told him to she'd try and to think of her when he was bowling. He promised and she patted his cheek and told him that he was a very good boy, she was very proud of him and that she loved him. It was one of those moments where everything seems to slow briefly…I don't thing he'll ever forget that exchange.
After another round of hugs and my gentle prodding that we should go so she could rest, Alex remembered the earrings he had made for her and while explaining that he had made them himself and how, he unwrapped them and put them in her hand. I don't think I've ever seen a bigger smile from her and I know that even if she never wears them, it made him supremely joyful to make her smile.
I couldn't have asked for more.
But sometimes, the man upstairs has just a little more to say.
We quietly slipped out after saying goodbye and telling her we would see her at her retirement party on June 23rd…a large hope on my part. We made it all the way back to the elevator before Alex started to cry. Oh, he tried so hard not to, but his little shoulders began to shake from the effort of holding it all in. It's a small hospital, so we were outside in just a minute or two and I steered the three of us to a park bench in the shade and just held him as he sobbed. For a moment, I closed my own eyes and cried too and when I opened them, Sophia was no longer on the bench beside us.
She was kneeling beside it, her little head bowed over her folded hands. Praying.
This is my child who never stops, never misses a beat, knows everyone and makes instant friends with strangers. She never stops talking and even talks and sometimes sings in her sleep. She's like a hummingbird on crack. Yet, she stayed right there praying silently, still as stone for almost five minutes while Alex sobbed into my shoulder. I have no idea what my little girl and the big man upstairs were discussing, but that's the longest I've EVER seen her hold still except to sleep. Watching her was my own little private miracle…such a simple blessing.
Finally, we walked slowly to the car and talked about illness, why hospitals can't save everyone, death and heaven. It was a heavy conversation, but a good one nonetheless and the kids never seemed to run out of questions. I know it may be a long shot, but I'm hopeful that the next time I see Mrs. R it will be over a cup of coffee. If that's not the path laid out for us, then we are still all the richer for having her in our lives.
Posted in Life | 0 Comments
April 23rd, 2013 by Karen
For all my lovely Camp Pendola friends, here is the list of songs from the Serenade Book from 1995. There of course were other songs played, but these are the ones in the actual booklet:
Heart of Gold
Free Fallin'
Blowin' in the Wind
Mr. Bojangles
Cat's in the Cradle
Grandma's Feather Bed
Pass It On
Sinner Man
Let it Be
Annie's Song
Get Together
Follow Me
Feelin' Groovy
Jesus Loves Me
One Tin Soldier
The Rose
Moon Shadow
Peaceful Easy Feeling
I have a printed copy of it that contains the chords…if anyone wants a pdf, I can scan it and email it. Just let me know via a comment. 🙂
Posted in Life | 0 Comments
April 23rd, 2013 by Karen
Personal opinions follow…you are warned…
I must admit that I am terribly sad about the closing of Camp Pendola. I always wanted to feel comfortable enough to send my children there, but with so many whispers in the wind about issues and the very un-Catholic goings on grumbled about on social media and behind closed doors, I just never felt like it was the right time. Am I overprotective? Probably…but they're my children. It's my job.
I'll never forget the amazing times I had at Pendola…from the first time I laid eyes on it in 1992 at CLI, to what will likely be our final trip to the space later this summer. Without Pendola, I would not be married to Joel, I wouldn't have our three beautiful children, I wouldn't have the friends I do now. I loved all the campers, teaching arts and crafts (despite all the holes in the floor), the craziness that was living in First Aid with Kim, Liz, and Ro and all the shenanigans that entailed, the hikes, the campfires. I loved watching the kids try to find the kitchen staff as we played Wild Thing and I loved the delight the staff took each week in hiding. I loved pausing on the way to Camp at the G Spot in awe every time and the final turn on the road into Camp where the trees opened just enough for the upper lawn to peek through. I loved blackberry picking (and yes, that is actually all we -ever- did tyvm, though I did recently hear a variation on the story that had us as a star crossed couple who died in an accident with the blue truck. Crazy!), making bottle rockets, helping in requisitions, relaxing in the hot tub on Saturdays (before it was removed), sleeping under the stars at Slate, stops at the Nugget for choco-tacos, and days off in Nevada City. I loved returning the summer after Casey's Grove was finished and sitting there alone to say goodbye to my gentle friend and co-counselor among the trees.
The first time I met Joel was at Pendola in 1992.
He kissed me for the first time on July 9, 1995 in lower staff, after asking my permission.
We laughingly discussed our favorite children's names sitting on the big green couch, not knowing that years and years later we would use them.
Camp friends attended our wedding and helped with the Mass, doing readings and distributing Eucharist.
Miss Margaret and Mr. Matt Sanders are the godparents of our eldest daughter.
The very first person we told we were expecting our son was Cheryl Tholke.
Mr. Steve and Cheryl are his godparents.
I've taken great delight watching my children explore at Family Camp through the years and discovering the magic that is Pendola.
I've heard some of the reasons for the new space and frankly, they don't move me. It's just a space with buildings and it holds no meaning for me. To me, Pendola is so much more than just a place where kids come for a week in the summer. It's the starting point for what would become my family and not just mine, but countless others as well. I feel it's a shame that all the history and grace that is Pendola will be lost. And it will be. The space will belong to others who don't know what it stood for, what it meant to the thousands who came there for years and years, who don't know of the hard work and dedication of staff and volunteers through the years, who don't understand the meaning behind the gift of the Pendola family or why that extra stage is inexplicably hidden back in the trees. That legacy will not exist except in the memories of old staff and campers who likely will not be involved much or at all at the new site. It's a rather bleak end for a beloved spot.
I know others may take exception to my opinion on this and they are welcome to opinions of their own. Panta rhei…everything flows. Change is inevitable and nothing remains the same, and yet… I will still carry great sorrow with me when we drive away for the final time.

Up in the pines, there stands a camp,
a camp of honor and of faith,
the most wonderful camp in all the world,
and Camp Pendola is it's name.

We see the sun set in the West,
the green hills where the campers trod.
We love our camp up in the pines,
and all our thanks we give to God.

Posted in Life | 0 Comments
April 22nd, 2013 by Karen
I've mentioned this to a number of people over the years, but I'm just now getting around to actually writing it up.
Don't call me crazy, but yes, I make my own laundry soap.
Why? Well, there's a couple of reasons…
I've always had a great sensitivity to soaps, detergents, and smells. Remember when we were kids and just walking into a department store necessitated the Running of the Perfume Gauntlet? I HATED going shopping because it meant that I was left gasping for air and itching like crazy the rest of the day from all the crap the fancy dressed ladies behind the counter would spray at you as you passed.
*spritz* "This is our newest fragrance, Eau de Dead Parisian Flowers! Isn't it lovely?"
Gag. I don't think I detested anyone as much as those blasted perfume people, but being sensitive to such things is actually a really big pain. It means that when I travel, the little soaps leave my hands rough and chapped. When I go out with friends, riding in the car with their perfume makes my eyes water. Switching detergents turns me into a dry skin itch factory. Because of this, for YEARS, I've used the same soap, the same dish detergent, the same shampoo, the same laundry soap…switching just really isn't much of an option long term. This meant that for a very long time, I used Tide Free.
A few years back, Tide Free got expensive. Really expensive. We have three kids and the huge change in price sucked and though it doesn't seem like a big deal, when you have a very slim budget (yay medical bills!) a dramatic price change in something small really has a greater effect than you might think.
We just happened to have some dear friends, Jen and Karl, visiting that summer and I mentioned in passing that I really hated doing the laundry because it was just so expensive and Jen laughed and said "You should just make it yourself! It's so cheap and does a better job!" So, with her prodding and with a bit of hesitation on my part, I decided to give it a go…if it made me itch, I would just use it on everyone else's clothes and do mine separately for a while if I needed to.
Well, it was AMAZING. The clothes are clean, the stains come out, everything is fresh and wonderful and I don't itch. It's also ridiculously easy and cheap.
---
Homemade Laundry Soap

1 Cup Borax
1 Cup Arm and Hammer Super Washing Soda (not detergent or baking soda!)
1 bar Fels-Naptha soap (you can also use Zote or any number of washing bar soaps)

Using a food processor, shred, then chop the Fels-Naptha bar into tiny bits. I usually chop in some of the washing soda with the bar to blend it better. Mix all ingredients together and store in a container. I use my old Tide Free box.

Use 1 TBSP for a full load of laundry. If you have something particularly dirty or smelly (like the time you forgot the laundry and it sat in the washer for two days) pour in a cup of white vinegar when you start the load and it will fix that right up.
---
That's it. It really can't be more simple.
Before, each load of laundry was costing about $0.25 or more PER LOAD. Mine is now $0.06 or less! The borax is about $8, the A&H Super Washing Soda about $5 and the Fels-Naptha is $1.25 per bar at the store. Not counting any sales or coupons or anything, I can make 7 batches of the above recipe for $22 (1 box Borax, 1 box A&H, 7 Fels-Naptha bars) and I'll have made enough detergent for 336 loads of laundry and still have Borax left over.
Now, I won't say that I think laundry is all sunshine, rainbows and unicorns, but now at least it doesn't bother my budget.
Posted in Family | 0 Comments
March 27th, 2013 by Karen
Thirteen years ago, my life was forever changed. For twenty three long years, I was Karen.
At 6:10 pm, on March 27th, 2000 my name became "Mom".
It wasn't the easiest thing I'd ever done…I've always told friends who have yet to have children that it's like signing a contract without reading the small print. A thousand things you didn't expect will irreversibly change. Sure, there's the laundry list of the usual suspects like "You'll never sleep in again" and "You'll never go out", but then there's the weird little things like taking six years to be able to look at Mac and Cheese again without gagging because the mere smell would make me ill when I was pregnant, learning to sleep on two inches of bed because some little person had claimed the center of the bed (sideways, naturally) and don't forget the fun things that happen when you sneeze.
For years after having kids, you'll make bizarre choices that make sense to no one but other parents, like choosing which park to go to based solely on it's bathroom or exhaustedly watching "Cinderella" for the 8th time in a row in as many days. Somehow though, we got through those long years of spills, Cheerios, crayons, finger paints, and tears over sharing incidents and today, my daughter turned thirteen.
Thirteen!!
Holy cow, I remember being 13…wandering around Carnegie Middle School, awkwardly not fitting in, my first "real" dance, learning to curl my hair without burning myself, learning the Fosbury Flop for track meets, going to the Oregon Shakespeare Festival in Ashland as part of a field trip, being bullied and insulted by guys in my High Achiever classes who called me "Fat Cow" (I was a size 6. I still remember all their names. Jerks.) and crushing on boys in my class that I felt were out of my league. I had my first 'real' boyfriend at 13 (and broke up with him for stupid reasons, yet we are still friends). I met my best friend when I was 13 and she's still my best friend. I saw my first PG-13 movie without my parents (it was a double date to see Ghost and the guy that took my BFF to the movie dropped his retainer on the theater floor. Ew.)
All this makes me both excited for my daughter as well as terrified. She's on the cusp of so many amazing things as well as all those awful things that we want to protect our children from. Those deep yawning pits of problems and drama scare me…I know that I can't protect her from them all, nor should I, since how we deal with adversity as adults directly correlates with how we learned to deal with such things as kids. But I can't help but want to smooth the rough edges for her.
Thirteen is important. I know it's important because of what's coming next for her. It's important to her because now she's officially a teenager. No longer is she trapped in that no-man's 'tween' land of crappy music and ill fitting clothing. She finally feels free to shed the butterflies and bubblegum pink glitter and select soulful blue hues and pick music outside of the mainstream. It's a thrilling thing to watch.
I'm sure we'll butt heads through the next couple years over clothes, dating, and curfews, but regardless of what's over the horizon, I'm so proud of her and I know that she has the potential and the ability to do so many incredible things with her life. She's sweet, funny, smart, helpful, and loving. She's becoming a wonderful young woman.
What more could a mother ask for?
Posted in Family, Life | 0 Comments
February 9th, 2013 by Karen
Tonight as I was attempting a little self-distraction, a post by a friend on Facebook caught my eye. It was a cartoon about introverts and I found the comments incredibly interesting. The cartoon's explanation of how introverts interact with others was apparently a revelation, not only to those friends in the comments, but also to a fair number of folks at the original source post. It had some excellent insights into how I feel a lot of the time.
Over the years, I've taken the Myers-Briggs personality tests on multiple occasions and my results have consistently been INFP:
Introversion – I tend to be quiet and reserved. Others have called me a 'wallflower' in the past and I don't find it particularly incorrect, though sometimes they actually have meant it unkindly. I'm an observer, preferring to watch the interactions of others with unobtrusive curiosity.

Intuition – I also rely heavily on my intuition. While as a scientist, I love my numbers and cold hard concrete facts are easily defensible, I have learned that to ignore that intangible 'rightness' of my intuition is at my own peril. My biggest life mistakes have occurred when I didn't listen to my own hunches.

Feeling – Hand in hand with that is 'feeling'. Having been accused of being illogical in the past, I've struggled to explain to others that the Ockham's razor approach (simplicity is preferable to complexity) isn't always the best course of action in my opinion. For me, the best choice in any given situation is the one that makes the most people happy or satisfied. I've always had this overwhelming feeling of empathy for others and there have been times when others' emotions and situations have been so distressing to me that I've had to withdraw as the emotional expense was simply too great to bear.

Perception – Finally, I am perceptive. I tend to reserve judgement in any given situation until the last possible moment, preferring to continue to collect and reflect on data until a decision must absolutely be made. This goes for -everything- in life and can sometimes be crippling as it also feeds into perfectionism. I can't tell you the number of times I have doubted myself or gone back through past work with a critical eye to correct or polish something. It's been nearly 14 years since I graduated college and just a few months ago, I found myself with one of my thesis (yes, I had two) in hand actually considering redoing my research and rewriting the entire thing. I'm still considering it.
I abhor conflict. I delight in the unique. I find deep pleasure in the company of my friends. I am far more expressive in my writing than I feel I can ever be in person. Symbolism and alliteration enchant me. I write copious amounts of soul-baring poetry and fanciful fiction. Crowds kinda freak me out, though this doesn't mean I don't crave touch and affection. I hate calling for pizza because I don't know who will pick up the phone on the other end. I married an extrovert. I love singing and have spent hours on stage in the theater, but it's a mask. It's the same mask I wear at parties and conferences and parent meetings. Few know the person behind it.
For me, respite and renewal is found in my hobbies. My friend Lisa has often commented that she rarely sees me without some sort of yarn in hand or at least close by and crocheting is often my go-to stress relief and a quick way to find my center. The fact that I end up with something beautiful at the end is a bonus. It's the same reason I spin (yes, I have a spinning wheel), volunteer to trim the roses at my children's school, and devour books. I regain something of myself in each of these activities. To not do them is to spiral into despair and depression.
In college, I had the great pleasure of having several roommates that were exchange students from Japan. In the initial packet we received with cultural information was a simple statement that culturally, they do not feel the need to fill every moment with chatter. Silence is a comfortable thing. There were whole weeks that Megumi and I barely spoke aloud to one another…not out of anger or perceived slights, but simply because it wasn't necessary. We kept each other company in our quiet ways, a collegiate version of monastic life perhaps, living out our day to day duties in the confines of a whitewashed room with minimal furniture and simple needs. This isn't to say we didn't have our moments of riotous joy…we had our fair share of giggling and jokes (usually involving pizza and tormenting another exchange student named Yo with aforementioned pizza), but it wasn't an everyday occurrence. Perhaps that's why I find such happiness in the memories as they stand out from the myriad of conversational exchanges I had with others in my life at that time.
As Thomas Carlyle once wrote, "Silence is the element in which great things fashion themselves together; that at length they may emerge, full-formed and majestic, into the daylight of Life, which they are thenceforth to rule."
My silent introverted ways are simply thus…my way of processing and then reshaping the world into something more beautiful than I found it initially.
Posted in Life | 2 Comments
November 19th, 2012 by Karen
Now as many of my friends and family know, I play a delightful MMO called City of Heroes. I've actually played CoH since the birth of our youngest child back in 2005. It is my home away from home, my escape from the everyday. In the game, I am a super hero. I can leap tall buildings, I can fly, I can save the day…I can be anything I wish here, though most of the time, I choose to throw around an awful lot of fireballs. City of Heroes players come from a very diverse cross-section of the population and I have played on teams with some pretty heady folks, from award winning authors to CEOs and VPs of large Silicon Valley Tech companies, to college professors and more. We've had amazing fun together through the years and some very esoteric discussions between missions. It's really an incredible group of people and I am proud to call so many of them friends.
At the end of August, the company that distributes the game, NCSoft, abruptly announced that they would 'sunset' our game on November 30th. When I say 'abruptly', I mean it…even our wonderful development team at Paragon Studios wasn't even told until the morning of the announcement. It was a vicious and unconscionable way to fire a group of amazing, talented individuals, not to mention that they did it right before a holiday weekend here in the US.

The Epic Paragon Studios Development Team

The community instantly rallied together and various plans coalesced, most of which ended up on the Titan Network Forum and grew exponentially. A Change.org Petition was started and has more than 21,000 signatures now, a massive letter writing campaign made NCSoft beg us to stop while at the same time lying to players (they mention that 'We've exhausted all options including the selling of the studio and the rights to the City of Heroes intellectual property, but in the end, efforts to do so were not successful.' however there are multiple investment firms that have come forward to say that isn't true…their inquiries were never responded to), and an amazing Unity Rally was held in the game on September 8, 2012 which over 3,000 players attended, filling 2 entire servers to capacity with large waiting queues on each.
Note that date. September 8th, 2012.
It's important.
Why? Because that's the date that gamers stood up and said "No." Time and time again, NCSoft has killed off their games in a ruthless manner and we as players will no longer tolerate being treated like trash and we definitely will not tolerate our dev team being treated that way either. (Note, an appreciation dinner drive for the Paragon Studios team raised over $1,000 in just 3 hours, we love them THAT MUCH. What game community EVER says that about their developers and moderators?) We are being forced out of a growing game with a loyal player base for no discernible reason…in fact, some rather awesome number crunchers took the time to delve into the past several quarters and years of earnings reports for NCSoft and reported back to the community that our game was generating on average $10 million in profit a year. $10 Million. Profit. And we're not good enough?
Additionally, despite a concerted effort of players to politely and respectfully reach out via any and every means available to NCSoft, they have maintained absolute silence with the exception of the request to stop sending them mail. Only their out and out lie to the players approximately five weeks after the initial announcement changed the tone of player's pleading messages. Their twitter account has remained dormant with the exception of one retweet in September, their various videos on their YouTube accounts have a large number of negative votes and comments and no new content in the last 3 months, their NCSoft West Facebook Page is littered with complaints and rants, their main NCSoft Facebook Page is rife with angry comments despite most of the page being in Korean, and their company has been tagged in a bunch of unflattering pictures many of which call for a Boycott of NCSoft products. Lest you discount this as just angry gamer rage, please reread this paragraph. Despite the massive emotional outpouring by the City of Heroes gaming community, until they lied to us, we kept things civil.
Below is a really wonderful chart of the NCSoft stock price since the game closure announcement. (Tony V at the Titan Network shared it with me, and I'd love to give credit to the originator, so if it's you, let me know!) You can easily see how the stock price immediately began falling the day after the Unity Rally on September 8th and has continued its free fall ever since.
There is a reason for this: NCSoft is a poorly run company rife with mismanagement, continued deceitfulness (see the Richard Garriott debacle where they falsified documents and lost a $32 million lawsuit), and a habit of ignoring players wants completely. They have shown time and time again that they do not understand the Western gaming market and the closing of City of Heroes will be the nail in their coffin. I simply hope that once NCSoft is well and surely dead that a savior will come save the players from a total team wipe by purchasing the IP for City of Heroes in NCSoft's bankruptcy sale.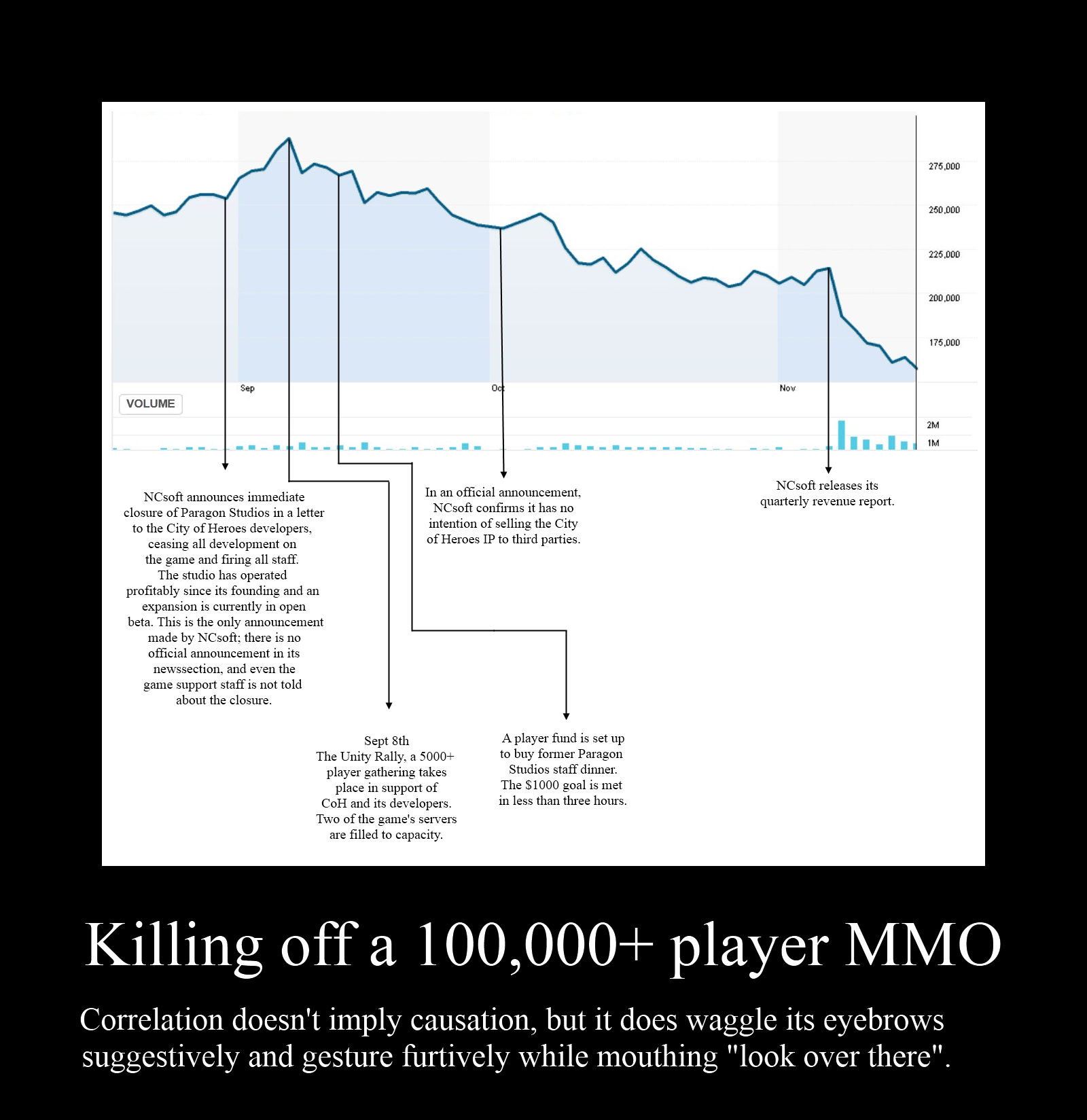 Posted in City of Heroes / City of Villains, Gaming | 0 Comments
October 7th, 2012 by Karen
In the past 24 hours, I let someone get the better of me.
They made me so sad that I stayed up half the night in worry and tears. This morning wasn't much better.
The reasons or circumstances don't matter much, just this one statement.
In the past 24 hours, I let someone get the better of me.
It had nothing to do with my competence, my credibility, or my performance. It was merely the outcome of a minor argument that I'd all but forgotten nine months in the past about something that is now a complete moot point.
I put the key to my happiness in someone else's pocket and trusted they would take care of it.
And yet…this isn't their fault. I put it there. They didn't wrestle it away from me. I simply handed it over.
There isn't much I can do to salvage the situation, nor do I feel the particular energy to attempt it, but I have to remind myself. I AM NOT WHO PEOPLE SAY I AM.
I am me.
I am a wife.
I am a mother.
I am a hard worker.
I am passionate.
I care deeply about my friends.
I have helped raise over $40,000 for worthy causes in the last 3 years.
I need to prove my worth to no one but myself.
Tonight, I sang in a concert with our local Master Chorale. It is a lovely select group of singers and I consider myself fortunate to be among them. The last song of the night, 'For Good' from the musical Wicked, was dedicated to our dear, departed director Joaquina who passed away a few months ago. She always expected the best of us and called us her 'darlings'. While the rest of the song was poignant in it's own right, one phrase seemed to resonate for me tonight:
"And just to clear the air, I ask forgiveness for the things I've done you blame me for, but then, I guess we know there's blame to share and none of it seems to matter anymore."
So I do ask forgiveness for my transgressions, however it takes two to tango and I'm taking back my key, and leaving this dance.
Posted in Life | 0 Comments
« Previous Page
—
Next Page »